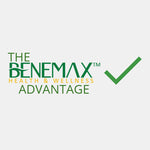 Benemax is a line of 100% plant-based supplements, providing an array of essential nutrients with no additives, artificial colours or preservatives. Our line of natural health products is designed with safety, simplicity and quality in mind. Every single ingredient in our bottles is derived from high-quality, third party tested, non-GMO plants. In addition, every Benemax bottle is made in Canada, following GMP manufacturing procedures, and is triple tested before being sent to market.
With regards to dietary restrictions, our gelatin-free, carrageenan-free, gluten-free, nut-free, additive-free supplements are suitable for ALL lifestyles, diets and religious beliefs. Whether you are pescatarian, vegan, halal, or kosher – choose Benemax.
When it comes to choosing a supplement for you and your family, choose a brand that removes all obstacles to better nutrition, a brand that will push your health from good, to better, to best!